Let no one despise your youth, but be an example to the believers in word,
in conduct, in love, in spirit, in faith, in purity.
1 Timothy 4:12
Sunday Morning Bible Study: 9:30 am
"The Chosen"
This series is about the life of Jesus and the men and women who walked the earth with Him. It will engage students in gospel events as we unfold the stories of Nicodemus the Pharisee, Matthew the tax collector, Simon Peter the fisherman, and others. Come see Jesus through the eyes of those that met Him.
"Run the Race"
Encouraging Students Through Life's Hardships. Run the Race is a modern day prodigal son story that poses tough questions meant to stir up conversations about faith. This study is meant to help students understand the power and importance of sharing the gospel, while equipping them to share their faith with their friends.
"To Know Christ and Make Him Known"
(Matt. 28:16-20)
The Christian life is more than simply saying a prayer of commitment to Christ. It is following Jesus not only as your Savior, but also as your Lord. This study is focused on helping students to grow and go! We are made to multiply the faith.
CBBC Youth Ministry has an adoption program?
Adults! We need you to "adopt" a youth!
Contact Matt or Alyssa for details: mwmccord@hotmail.com
Sunday Night Worship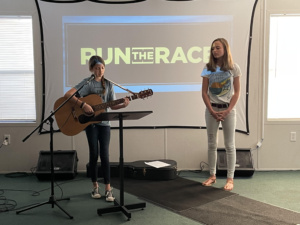 DNOW Weekend, March 2021

Lock-In, December 2020