Music at Crescent Beach Baptist
We want you to sing in our choir! No experience or talent needed, just a heart of worship!
For questions or to sign up, please call the church at 904-794-7777 or email cbbchurch.staff.kevin@gmail.com
As corporate worship is a crucial, defining activity of the Body of Christ; our focus is not on what we get, but rather on what we give. Through a range of music and programs, we desire our worship at Crescent Beach Baptist Church to be Christ-centered and exalting, theologically rich and joyfully offered so that our lives may increasingly glorify Him.
If you feel led to join us as we help lead our congregation each week, there are several ways to be involved: Contact Kevin or church office to participate.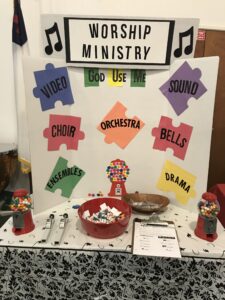 YOU MIGHT LIKE…
The Adult Choir is the foundation of the total music program. Singing every Sunday morning, the choir includes a mixed quartet along with several soloists…blessing the hearts of the CBBC congregations.
We gather on Wednesdays from 7:30p – 8:30p and Sundays from 5p – 5:45p to rehearse for Sunday AM service and special events through out the year. No audition required. Ages: 15 +
The Church Orchestra is a group of accomplished, experienced musicians who play for the Sunday morning service, accompanying the choir and the congregation. From this group come several musicians who often play solo arrangements. A smaller instrumental ensemble also adds to the variety of the music program. We gather on Sunday mornings @ 9am to rehearse for 11am service. Extra times are planned when special events are near. No audition required. Ages: 15 +
The Children's Choir has done a number of outstanding musicals that are a delight and a blessing to see and hear. They are always a joy, and truly bless all in attendance. Meets during the Wednesday evening service throughout the year. We prepare for 2 musicals each year and special times when we join with the Adult Choir.
A/V Media Team – This includes our Sound, Computer/Data projection and Video/streaming. Experience with Mac helpful but not necessary. Training is available for each of these areas.
For more information, or to get involved, contact Kevin King, Pastor of Worship, at cbbchurch.staff.kevin@gmail.com