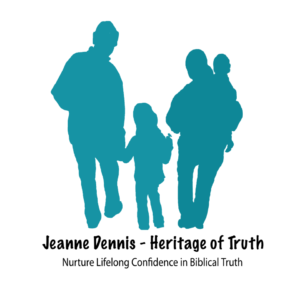 Heritage of Truth
God has given us His love letter, the Bible, to help us know Him, to lead us to salvation, and to teach us how to live. We have an awesome privilege and a solemn duty to pass down this heritage to upcoming generations.
We want to help you as concerned Christian parents to teach the reasons you believe so your children will have lifelong confidence in biblical truth. At the same time, we hope to encourage you in your own relationship with Jesus.
The Heritage of Truth ministry, led
by Steve and Jeanne Dennis,
has been serving believers online for ten years.
Our website contains around 500 videos, including interviews with pastors, authors, producers, actors, musicians, and other Christian leaders. It also offers blog posts,
a podcast,
a large section of biblical worldview information, resources for parents, and a children's section with articles, stories, and activities.
We have recently added the
Grace Overflowing
podcast.
Through the
podcast, hosts Jeanne Dennis and Neena Jones encourage families to depend on God's grace and grow in God's Word. Our discussions focus on faith, family, and culture and how they relate to parenting, relationships, and everyday life.
More info at jeannedennis.com